2017 Summer Cycling Jamboree
Fear Night – March 1st, 2017 6:30 pm @ Brown Cycles Bring your 'scary list' of Mtn bike trail sections that terrify you.We are going to drive around town and conquer your fears. Body armor and an old football helmet recommended.
One Bike Frame Design and Expo – March 29th, 2017 7-9 pm @ Brown Cycles This event is back with a twist. A funky frame design category was added for people that appreciate form regardless of function. RSVP to speak.
Cowboy Slam Cycle Poetry Night – April 26th, 2017 7-9 pm @ Brown Cycles Read your favorite cycle poem or draw one out of the magic helmet. Snaps for presentation and expression.
Mom Ride – May 5th, 2017 6:30-8 pm @ Brown Cycles
Back by popular demand!! Bring your mom out for a pedal and dinner. A short stroll down to Edge Water Brewery is just the perfect gradient.If her bike is too dusty, use one of ours.
Mountain Bike Shoot Out – June 10th-11th, 2017 Leave Brown Cycles @ 6:30 pm Pistol packing mtn bike ride, camp out, and chamber unloading in the desert. Bring yer gun and yer mountain bike n sleeping roll for an overnight campout on 18 Rd.
Sheriff Dylan's Wild and Wooly Mtn Bike Skills Class -July 12, 2017 6:30 pm @ Brown Cycles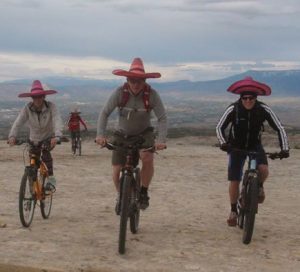 Ya deef? – Mtn Bike Skills Class.
Chasing Gringos – August 9th, 2017 6:30 pm – 9 pm @ Brown Cycles Choose a cowboy hat or a Sombrero and speed down the ribbon without losing your head. This ride is an adaption of the "2016 Sombrero Ride". Hootenanny at Dos after, with proper cranial attire.
Cycle Caboodle – Sept 13th, 2017 7-9 pm @ Brown Cycles This is my quiver and this is what I did with it. Bring your favorite bike and tells us a
story about what you did with it this summer. Git yer braggin' rights out.
Yellow Bellied Nancy Boy Road Ride – Oct 13th, 2017 5:30 pm @ Brown Cycles
Pedal the old trolley route to Fruita for snacks and to sit a spell.
Dave Roper will give a stunning presentation on the GJ Trolley-Chisholm Trail
and the remnants there-of. (Return on the bike path under a starry filled wonder while the little dogies coo and bellow.)
By clicking on Chris's face, you can listen to our bucket list of rides for 2016! Check out his radio show "Bicycle Radio" every 3rd Tuesday of each month at 12:00 pm, only on KAFM radio 88.1 FM Grand Junction."