Grand Junction has a rich and interesting bicycle history. Like many western towns, the automobile was slow to come to the area and bicycles were an ideal way to get around the flat-bottomed valley.
Below is an article from The Daily Sentinel, May 26, 1926, showing just how popular bicycles were (the photos at the left show the gold watch and medals awarded to the winners; the bottom photo is of Henry Patterson, who won the gold watch).
HUNDREDS PARTICIPATE
IN BIKE DAY EVENT SATURDAY
May 26,1926 – The Daily Sentinel, Grand Junction
Two hundred and fifty bicycle riders paraded the streets Saturday morning, and Henry Patterson, a boy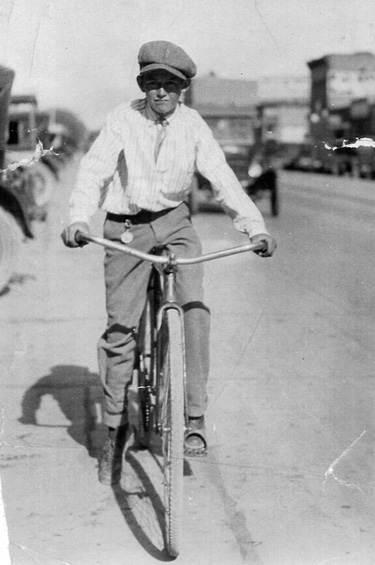 about 14 years of age, rode a six inch plank 10890 feet or 240 feet over two miles. The old record stood at 10690 feet, made by a 10 year old boy in Ontario, Calif.
Two hundred and fifty bicycles assembled at Spruce and Main streets. Fully 100 were decorated. Redda stated that some of the decorations were as beautiful as any he has ever seen in the nine states he covers.
Virginia Brown of the Lincoln school won first prize. Her decoration represented a May basket surrounding the entire bicycle, and filled with tissue paper made flowers, comprising roses, asters, daffodils and morning glories, all true to shape and color, and certainly presented a beautiful spectacle.
The judges, R.A. Ross, president of the Chamber of Commerce, Fred Mantey, and W. M. Wood, secretary of the Rotary club, made their decisions in the decorated class.
Decorated Bicycles – First prize, Virginia Brown, Lincoln school, was awarded a beautiful gold wrist watch, donated by the Morrow Coaster Brake company, of Elmira, N.Y.
Second prize, Mary Helen Storm, St. Joseph's school, received a Brownie kodak, donated by H.W. Vorbeck.
Third prize, Josephine Roessler received a Nonpareil bicycle tire, donated by the Carson Motor company.
Ten riders received bicycle bells, for honorable mention. The bells were donated by New Departure.
Another ten riders received leather covered gilt edge memorandum books, donated by the Morrow Coaster Brake company, Elmira, New York.
Oldest and youngest rider – Chas Herman, 514 Main Street, was the oldest rider out, being 58 years of age. He received a dozen trout flies, donated by H. W. Vorbeck. Alace Randall, Washington school, and 9 years old, was the youngest rider in line. He received a red reflector donated by the Carson Motor company. Scooter race – Edward Fohmeyer, Lincoln school, was the first over the tape in the scooter race, and received a pocket knife, donated by H. W. Vorbeck. Herbert Jolly was second, and received a sport eye shield donated by H.W. Vorbeck.
Plank rider – Henry Patterson rode the six inch plank 10890 feet and won the gold watch donated by the New Departure Coaster Brake company, Bristol, Conn. Rodda also donated a silver medal to Henry for his wonderful showing on the plank. The medal was donated by the Cycle Trades of America, New York. Erwin Kruger, riding 7800 feet, was second, and received a United States Chain Tread tire, donated by the Carson Motor company. Frank Kreps, riding 7050 feet was third, and received a Rollfast horn, donated by the Carson Motor company.
Twenty-five hundred spectators enjoyed the affair as much as the children. In leaving the city Rodda wishes to thank the city officials, school officials, bicycle dealers, and those that acted as judges, General Secretary J. I. Davis, and A. Meens, boys' Secretary of the YMCA, and the The Daily Sentinel, a hearty support in making Safety First Bicycle day the success it was. The Independent Lumber company furnished the lumber for the kiddies' plant ride.
The following boys and girls were given prizes for honorable mention places:
Earl Barbour, Della Mae Noe, of Hawthorne; Helen Downey, St. Joseph's; Geo. Earl Click, Emerson; Morris Ford, Reed Miller, Lowell; Floyd French, High; Harry Egger, St. Joseph; Luther Webb, High; Leonard King, Lowell; Edwin Kreager, High; Paul Casparek, Lowell; Gladys Dairis, Katherine Burke, of Emerson; Ida Mae Goff, Lowell; Mary K. Lowe, Agnes Dodson of Hawthorne; Harvey Brown, Vivian.