Do you want to ride someplace new?? Let this list of local and regional locations inspire you.
The Western Slope is a wonderland for Road and Mountain bike riding.
For the cost of a high-end root beer we will bust out our secret map box and point you in the right direction.
If I'm missing one, let me know.
Road Rides
Monument –Little Park Road Circle 8
Colorado National Monument
Douglas Pass
State Line 6 n 50
Uniweep Canyon
The Grand Mesa
Fruit Loop (East Orchard Mesa Puke Hill (38 Rd)
Junction To Fruita via The Old Trolley Trail
Reeder Mesa/Purdy Mesa
Junction to Delta
Debeque Cut Off
Little Park Road
Glade Park DS Rd to the Utah state line
16.5 Road to the Monument with a little dirt
Ride to Delta and back
Colbran via Plateau Canyon
River Front Bike Path
Mtn Rides
Mary's Loop/Kokopelli/Loma
Loopy 50- All The Trails Mary's Loop Connected (about 36 miles)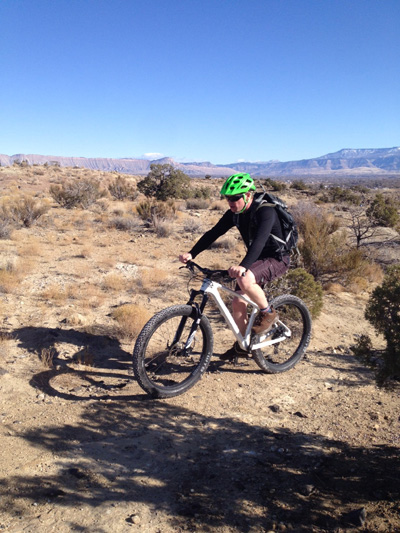 Marshall Pass
Baxter Pass
Turkey Flats
Dewy Bridge to Fruita
Lunch Loop Trails
Tabequache to White Water
Gunnison Bluffs Trails
18 Road Trails
Rabbit Valley
Western Rim/Trail 2 and 4
Zion Curtain
27 1/4 Road – E Ticket
Butter Knife/3rd Flats
The Ribbon
Sarlac
The Edge Loop
Lands End Road to the top of Mesa
Palisade Rim Trail
Stage Coach Palisade
25 Rd out to the Bookliffs/Telarico Mine

Annual Sponsored Rides
Tour of the Vineyards
Grand Junction Rides and Vibes
Pea Green Pedal

Out Of The Valley
Delta- Side Winder
Cortez – Phil's World
Vega to Paonia
Round The Mesa- 3 Day GJ-Delta-Hotchkiss-Paonia-Carbondale-Glenwood-Rifle-GJ
GJ to BookCliffs (25 Rd) to Dubuque to GJ – 88 Miles
GJ to White Water to Lands End to Mesa
to Palisade to GJ
Glade Park to Gateway
Kokopelli to Moab
Ride to Rangley
Douglas Pass
Ride to Meeker
Meeker Road Rides
Kokopelli Triangle
Pea Green
Dubeque to Colbran via V Rd
Ride To Moab
Jumbo in Paonia
Moab to St George
Ridgeway Mtn Trails
Mesa to Palisade Plunge
Mesa Top Trials
Black Canyon Of The Gunnison – Montrose
Highway 92 Classic – Gunnison Dam to Hotchkiss

Gravel Grinders
White Water To Palisade along base of
The Grand Mesa
Fruita State Line to Dewy Bridge and back on Kokopelli
25 Rd up the Bookcliffs to Debeque
Lands End
Ride the dirt to Aztec, CO